Razzle Dazzle Recipes
"Your Source for Thanksgiving Recipes"
Pumpkin Cheesecake
Makes two 10-inch cheesecakes, 32 servings

Since this makes two cheesecakes, you could serve one and freeze the other for use later. If serving fresh, make up to 5 days in advance. For longer storage, cover top tightly with aluminum foil and freeze for up to 2 months.
Crust:
2 C. graham cracker crumbs
3/4 C. ground toasted hazelnuts (see note)
1/2 C. granulated sugar
1/2 C. melted butter or margarine (1 stick)

Filling:
4 8 oz. packages cream cheese, softened
2 C. granulated sugar
1 T. vanilla
1/2 C. sour cream
1/2 C. whipping cream
1 1/2 t. ground cinnamon
3/4 t. ground ginger
3/4 t. ground nutmeg
1/4 t. ground cloves
1/4 C. all-purpose flour
8 eggs
3 C. canned pumpkin (slightly less than one 29 oz. can)

Preheat oven to 400°F.

To make crust:
Lightly spray the bottom and sides of two 10-inch springform pans with nonstick cooking spray. Line sides of the pans with parchment or wax paper.

In a small bowl, combine graham cracker crumbs, hazelnuts, sugar and melted butter. Mix well and divide evenly between prepared pans. Press firmly over the bottom and 1/2 inch up the sides of the pans.

To make filling:
In a large bowl, use a heavy-duty electric mixer to combine cream cheese, sugar and vanilla. Mix until smooth; add sour cream and whipping cream. Scrape the sides of the bowl and continue beating. Add cinnamon, ginger, nutmeg, cloves and flour. Add eggs one at a time, beating well after each addition; beat in pumpkin. Divide evenly between prepared pans.

Place in oven side by side. Bake 20 minutes, then lower oven temperature to 200°F. for 1 hour or until the cheesecakes feel firm to the touch. Turn oven off and let cheesecakes cool in the oven with the door slightly ajar for about 1 hour. This should prevent cracking (if a crack should appear, blend some sour cream, powdered sugar and vanilla and spread over the top when ready to serve). Cool, cover and refrigerate or freeze cheesecakes.

Unwrap frozen cheesecake and thaw either overnight in refrigerator or at room temperature for several hours; cover leftover cake with plastic wrap and store in refrigerator.

Note: To toast hazelnuts, spread the shelled nuts in a shallow pan or roast in a 275°F. oven for 20 to 30 minutes or until the skins crack. To remove skins, rub nuts while warm with a rough cloth.

From Bo's Desserts, Portland, Oregon

Back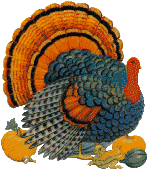 Home

Razzle Dazzle Recipes





http://www.razzledazzlerecipes.com

Don't forget to visit our other Recipe site at
That's My Home

Happy Thanksgiving!