Razzle Dazzle Recipes
"Your Source for Thanksgiving Recipes"
Pumpkin Chiffon Pie

3 egg yolks
1/2 C. sugar
1 1/4 C. cooked or canned pumpkin
1/2 C. milk
1/2 t. salt
1/2 t. ginger
1/2 t. cinnamon
1/2 t. nutmeg
1 T. (1 envelope) unflavored gelatin
1/4 C. cold water
3 stiffly beaten egg whites
1/2 C. sugar
1 baked 9-inch pastry shell

Beat egg yolks and 1/2 cup sugar until thick; add pumpkin, milk, salt and spices; cook in double boiler until thick.

Soften gelatin in cold water; stir into hot mixture. Beat egg whites and 1/2 cup sugar; add to pumpkin mixture

Pour into cooked baked shell and chill.

If desired, spread sweetened, whipped cream over top of pie.

Gingersnap Crumb Crust
1 1/2 C. gingersnap crumbs
1/4 C. sugar
1/3 C. melted butter

Mix all ingredients and press into a pie pan. Bake at 350° F. for about 10 minutes.

Back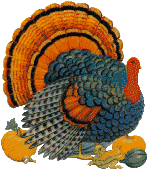 Home

Razzle Dazzle Recipes





http://www.razzledazzlerecipes.com

Don't forget to visit our other Recipe site at
That's My Home

Happy Thanksgiving!