Razzle Dazzle Recipes
"Your Source for Thanksgiving Recipes"
Pumpkin Gingerbread Ice Cream Roll

For pumpkin ice cream:
1 quart vanilla ice cream, softened 15 minutes at room temperature
1 1/4 C. pumpkin puree, fresh or canned solid-pack
1 1/2 t. pumpkin pie spices OR 1 t. ground cinnamon and 1/4 t. each ground allspice and ground ginger

For gingerbread:
1 14-oz. box gingerbread mix
1 C. water
2 T. minced crystallized ginger
4 T. powdered sugar, sifted, divided use

To make ice cream: Place ice cream, pumpkin and spice in bowl and beat on low speed with electric mixer until well blended. Mound back into empty ice cream containers. Cover tightly with plastic wrap and secure with a rubber band. Refreeze at least 4 hours to firm back up.

To make gingerbread: Adjust oven rack to lowest position. Preheat oven to 350° F. Grease bottom of 10- by 15-inch jelly roll pan and line with parchment. Spray parchment and sides of pan with vegetable cooking spray and dust with flour, or use Baker's Joy.

In bowl of electric mixer, beat gingerbread mix and water until smooth. Add crystallized ginger.

Spread batter into prepared pan as evenly as possible. Bake 12 to 15 minutes; top will be set and springy to the touch. Cool on rack for 10 minutes. Sift 2 tablespoons powdered sugar over surface of hot cake. Place cotton or woven linen dish towel over cake. Place a baking sheet over the towel, bottom up, so that flat side of pan is against towel. Quickly invert. Slide baking sheet out from under cake (leaving cake on towel), and peel off paper. Place paper back over surface of cake and roll up cake, paper and towel, starting at short edge, using towel to help roll it up. Place on rack, seam side down, and let cool at least 2 hours. Cake must be completely cool before filling.

To fill: Remove ice cream from freezer and let stand 15 minutes at room temperature to soften slightly; it should be firm but spreadable. Gently unroll cooled cake and discard paper. With metal spatula, spread ice cream evenly over cake. Using towel as a guide, gently reroll cake (don't worry if there are cracks). Place large piece of plastic wrap on jelly roll pan, transfer roll to the plastic, and wrap. Place in freezer until firm, about 6 hours to overnight (cake can be stored in the freezer up to 2 weeks before serving).

To serve: Place cake seam side down on long serving platter. If desired, trim ends with serrated knife. Sprinkle with 2 tablespoons powdered sugar sifted through mesh strainer. Let stand 15 minutes and cut into thick slices.
Serves 10
Back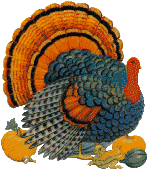 Home

Razzle Dazzle Recipes





http://www.razzledazzlerecipes.com

Don't forget to visit our other Recipe site at
That's My Home

Happy Thanksgiving!