Razzle Dazzle Recipes
"Your Source for Thanksgiving Recipes"
Pumpkin Custard Pie

1/3 C. margarine

1 1/4 C. all-purpose flour

4 to 5 T. cold water

3/4 C. egg substitute

1 (16 oz.) can solid pack pumpkin

1/2 C. firmly packed light brown sugar

1 1/2 t. pumpkin pie spice

1 (12-ounce) can evaporated skim milk

In medium bowl, cut margarine into flour until mixture is crumbly; stir in enough water until mixture forms a ball. Set aside 1/4 of the dough; roll remaining dough into an 11-inch circle. Place in 9-inch pie plate; trim and smooth edges. Roll out reserved dough and cut into 1-inch leaves; attach to edge of pie using 1 tablespoon egg product.
In large bowl, with electric mixer at medium speed, beat remaining egg product, pumpkin, brown sugar and pumpkin pie spice until well blended. Gradually blend in evaporated milk. Pour into prepared pie shell.
Bake at 400° F. for 35 to 45 minutes

Back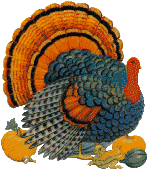 Home

Razzle Dazzle Recipes





http://www.razzledazzlerecipes.com

Don't forget to visit our other Recipe site at
That's My Home

Happy Thanksgiving!