Razzle Dazzle Recipes
"Your Source for Thanksgiving Recipes"
Pumpkin Mousse Pie

9 ounces graham crackers
3/4 cup plus 1/3 cup plus 2 tablespoons granulated sugar
3 tablespoons Dutch-process cocoa powder
3/4 teaspoon ground cinnamon, plus 1 tablespoon for dusting
1/4 teaspoon plus a pinch ground nutmeg
12 tablespoons (1 1/2 sticks) unsalted butter, melted
1/4 cup brandy
2 tablespoons unflavored powdered gelatin
3 large eggs, room temperature
1 1/2 cups homemade Pumpkin Purée or canned
1/4 teaspoon ground allspice
1/4 teaspoon ground ginger
1/2 teaspoon salt
1/4 cup sour cream
1 1/2 cups heavy cream
2 tablespoons confectioners' sugar
1/2 teaspoon pure vanilla extract

Heat oven to 325°. In a food processor, combine graham crackers, 1/3 cup plus 2 tablespoons granulated sugar, cocoa powder, 1/4 teaspoon cinnamon, and pinch nutmeg; process until finely ground. Transfer to a medium bowl; mix in butter with a wooden spoon. Press mixture onto bottom and sides of a 10-inch tart pan. Bake until set, 12 to 15 minutes. Set crust aside to cool.

In a small bowl, place brandy and 2 tablespoons water. Sprinkle gelatin powder over liquid; set aside to soften, 10 minutes. In the bowl of an electric mixer fitted with the whisk attachment, beat eggs on medium-low speed until fluffy. While the mixer is running, combine remaining 3/4 cup sugar and 1/4 cup water in a small saucepan over medium-high heat. Cook, stirring occasionally, until temperature registers 245° (firm-ball stage) on a candy thermometer, about 5 minutes. Immediately turn mixer to high speed. Carefully drizzle sugar mixture into eggs in a thin stream; continue to beat until mixture increases in volume and is pale yellow, about 5 minutes. Meanwhile, place bowl with softened gelatin over a saucepan of simmering water; stir until gelatin has dissolved.

Turn mixer to low; add gelatin mixture to egg mixture. Add pumpkin purée, remaining 1/2 teaspoon cinnamon and 1/4 teaspoon nutmeg, the allspice, ginger, salt, and sour cream; combine. Pour filling into pie crust; refrigerate until set, 4 hours or overnight.

To serve, whisk heavy cream, confectioners' sugar, and vanilla in a medium bowl until stiff. Pipe whipped cream in rosettes onto pie (or spread the whipped cream evenly over the top of the pie with a spatula). Sift remaining tablespoon cinnamon on top. Serve chilled.
Serves 8 to 10.
Back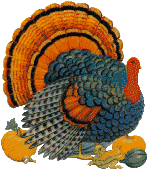 Home

Razzle Dazzle Recipes





http://www.razzledazzlerecipes.com

Don't forget to visit our other Recipe site at
That's My Home

Happy Thanksgiving!