Razzle Dazzle Recipes
"Your Source for Thanksgiving Recipes"
The Ultimate Pumpkin Pie

1 medium sugar pumpkin
1 tablespoon vegetable oil
1 9-inch frozen pastry for single crust pie
1/2 teaspoon ground ginger
1/2 teaspoon ground cinnamon
1 tablespoon dark rum
1 teaspoon salt
4 eggs, lightly beaten
1 cup honey, warmed slightly
1/2 cup milk
1/2 cup heavy whipping cream
1/4 cup chopped pecans

Cut pumpkin in half, and remove seeds. Lightly oil the cut surface. Place cut side down on a jelly roll pan lined with foil and lightly oiled. Bake at 325° F. until the flesh is tender when poked with a fork. Cool until just warm.

Scrape the pumpkin flesh from the peel. Either mash, or puree in small batches in a blender. In large bowl, blend together 2 cups pumpkin puree, spices, and salt. Beat in eggs, rum, honey, milk and cream. Pour filling into pie shell.
Bake at 400° F. for 50 to 55 minutes, or until a knife inserted 1 inch from edge of pie comes out clean. Cool on a wire rack and store in refrigerator until ready to serve. To serve, add a large dollop of whipped cream on each slice, then add a light dusting of cinnamon and a pinch of the pecans over the whipped cream.

Yield: 9-inch pie
Back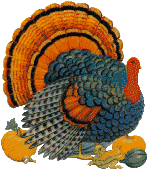 Home

Razzle Dazzle Recipes





http://www.razzledazzlerecipes.com

Don't forget to visit our other Recipe site at
That's My Home

Happy Thanksgiving!