Razzle Dazzle Recipes - Thanksgiving Recipes
"Your Source for Thanksgiving Recipes Online"
Pumpkin Praline Pie Recipe

Crust
3/4 cup pecan meal OR 3/4 cup ground toasted pecans*

1/4 cup sugar

1/4 teaspoon salt

1 cup King Arthur Unbleached All-Purpose Flour OR Mellow Pastry Blend

1/2 cup (1 stick) cold butter

1 egg yolk (save the white for the filling)

*If you want to grind toasted pecans, rather than use pecan meal, an easy and quick way to do it, without turning the nuts into paste, is to place the nuts, sugar, salt, and flour into a food processor, pulsing until the nuts are ground.

Filling
3/4 cup brown sugar, lightly packed

1 tablespoon King Arthur Unbleached All-Purpose Flour

1/2 teaspoon salt

1 teaspoon ground cinnamon

1/2 teaspoon ground ginger

1/4 teaspoon ground nutmeg

1/8 teaspoon freshly ground black pepper

1/8 teaspoon ground cloves

2 large eggs plus 1 egg white (reserved from above), lightly beaten

14 to 15-ounce can pumpkin (NOT pumpkin pie filling!) OR 1 2/3 cups cooked, mashed pumpkin

1 cup light cream [half-and-half] OR evaporated milk

3/4 cup toffee-flavored bits

Garnish (optional)

3/4 cup chopped pecans

2 tablespoons sticky bun sugar OR 1 teaspoon corn syrup + 1 tablespoon granulated sugar

Crust: In a medium-sized bowl, whisk together the pecan meal, sugar, salt and flour. Using a pastry blender or fork, your fingers, or a mixer, cut in the butter. Add the egg yolk, tossing and stirring to make a crumbly dough. Sprinkle the dough into the pie pan, and press it over the bottom, up the sides, and over the rim of the pan. Cover the crust with a pie crust shield or aluminum foil to protect it from over-browning, and bake it in a preheated 425° F oven for 15 minutes. Prepare the filling while the crust is baking.

Filling: In a medium-sized mixing bowl, whisk together the sugar, flour, salt, cinnamon, ginger, nutmeg, pepper, and cloves. Stir in the beaten eggs, then the pumpkin and cream or milk, mixing until thoroughly combined. Finally, stir in the flavored bits.

Garnish: Toss the pecans with the sticky bun sugar or sugar and corn syrup.

Assembly: Pour the filling into either your favorite unbaked deep-dish (at least 2 inches deep) crust*, or into the pre-baked pecan crust. Top with the pecan garnish, if desired. Bake the pie in a preheated 425° F oven for 15 minutes, then reduce the oven heat to 350° F and bake for an additional 40 to 45 minutes, or until a knife or cake tester inserted into the center comes out clean. Remove the pie from oven, and cool it on a wire rack.
Yield: 8 servings

Back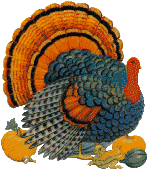 Home

Razzle Dazzle Recipes





http://www.razzledazzlerecipes.com

Don't forget to visit our other Recipe site at
That's My Home

Happy Thanksgiving!