Razzle Dazzle Recipes - Thanksgiving Recipes
"Your Source for Thanksgiving Recipes Online"
Steamed Pumpkin Pudding with Creamy Sauce (Crockpot)

1 C. brown sugar
1/2 C. shortening
2 eggs
1 3/4 C. all-purpose flour
1 t. salt
1 t. baking powder
1 t. baking soda
1 t. cinnamon, ground
1 t. ginger, ground
1/4 t. cloves, ground
1/2 C. pumpkin
1/4 C. buttermilk or sour milk
1/2 C. dates, in small pieces
1/2 C. nuts, chopped

Sauce:
1 egg
3 T. butter, melted
3/4 cup confectioner's sugar
1/2 t. vanilla
nutmeg or mace, dash
1/2 C. whipping cream, whipped

Cream sugar and shortening. Add two eggs, beating until light and fluffy.

Mix flour, salt, baking powder, baking soda, cinnamon, ginger and cloves. Add to creamed mixture alternately with pumpkin and buttermilk. Beat well after each addition. Fold in dates and nuts.

Pour into a well oiled 6-cup mold. Cover with foil, sealing well. Place trivet in removable liner and fill with 1 inch of water. Place mold on trivet. Place liner in base.

Cover and cook on HIGH 5 hours. Take mold from liner; cool; unmold. Serve with creamy sauce.

Creamy Sauce:
Beat 1 egg until foamy. Blend in melted butter, confectioner's sugar, vanilla and nutmeg. Fold in whipped cream.
Serving Size : 8
Back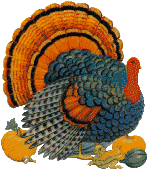 Home

Razzle Dazzle Recipes





http://www.razzledazzlerecipes.com

Don't forget to visit our other Recipe site at
That's My Home

Happy Thanksgiving!