Razzle Dazzle Recipes
"Your Source for Thanksgiving Recipes"
Pumpkin Toffee Cheesecake Recipe
For the crust:
1 3/4 C. crushed shortbread cookies (about 14 to 16)
1 T. butter, melted

For the cheesecake:
3 8 oz. packages cream cheese, softened
1 1/4 C. packed brown sugar
1 15 oz. can pure pumpkin
2/3 C. evaporated milk
2 large eggs
2 T. cornstarch
1/2 t. ground cinnamon
1 C. chopped or crushed toffee candies

For the topping:
2 C. sour cream, at room temperature
4 T. granulated sugar
1 t. vanilla extract
Caramel ice cream topping, optional

Preheat oven to 350°F.

To make the crust:
Combine cookie crumbs and butter in small bowl. Press into bottom and 1-inch up side of ungreased 9-inch springform pan. Bake for 6 to 8 minutes (do not allow to brown). Cool on wire rack for 10 minutes.

To make the cheesecake:
Beat cream cheese and brown sugar in large mixer bowl until creamy. Add pumpkin, evaporated milk, eggs, cornstarch, and cinnamon; beat well. Pour into crust. Bake for 60 to 65 minutes or until edge is set but center still moves slightly. Remove from oven; top with toffee candies.

To make the topping:
Combine sour cream, granulated sugar, and vanilla extract in small bowl; mix well. Spread over warm cheesecake.

Bake for 8 minutes. Cool completely in pan on wire rack. Refrigerate for several hours or overnight. Drizzle with caramel topping before serving.

Yield: 16 servings
Back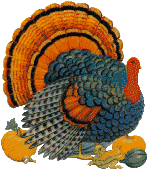 Home

Razzle Dazzle Recipes





http://www.razzledazzlerecipes.com

Don't forget to visit our other Recipe site at
That's My Home

Happy Thanksgiving!