Razzle Dazzle Recipes
"Your Source for Thanksgiving Recipes"
Cinnamon Rice Pudding

3 C. cooked medium grain rice
3 C. milk
1/2 C. sugar
1/4 C. butter
2 cinnamon sticks
1 t. vanilla extract
Ground cinnamon
Berries and whipped cream, optional

Combine rice, milk, sugar, butter, cinnamon sticks and vanilla in a 2-quart saucepan. Cook over medium heat until thick and creamy, 20 to 25 minutes, stirring frequently. Remove from heat; remove cinnamon sticks and top with whipped cream and fresh assorted berries, if desired. Sprinkle with ground cinnamon.

Yield: 6 servings
Back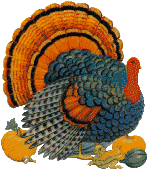 Home

Razzle Dazzle Recipes





http://www.razzledazzlerecipes.com

Don't forget to visit our other Recipe site at
That's My Home

Happy Thanksgiving!