Razzle Dazzle Recipes
"Your Source for Thanksgiving Recipes"
Sweet Potato Pie
2 C. mashed sweet potatoes (about 1 1/2 pounds)*
1/2 C. butter
1 C. sugar
2 eggs
1 t. vanilla extract
1/4 t. nutmeg
1/8 t. cloves
1/4 t. cinnamon
1/8 t. salt
1 C. evaporated milk
1 9-inch unbaked pie shell

Preheat oven to 375°F.

In an electric mixer, blend potatoes, butter and sugar. Add eggs one at a time, beating well after each egg. Add vanilla, spices, salt and evaporated milk. Mix well.
Pour into unbaked pie shell. Place in preheated oven and bake for 35 minutes or until set. Remove from oven and cool.

Store in refrigerator. Serve with whipped topping, if desired.

*Boil potatoes in skins. When cool enough to handle, peel and mash.

Back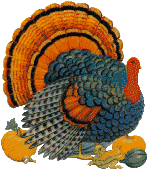 Home

Razzle Dazzle Recipes





http://www.razzledazzlerecipes.com

Don't forget to visit our other Recipe site at
That's My Home

Happy Thanksgiving!