Razzle Dazzle Recipes
"Your Source for Thanksgiving Recipes"
Sweet-Potato Pie with Spice Crust

Pastry

2 C. all-purpose flour

2 T. sugar

1/4 t. cinnamon

1/4 t. nutmeg

pinch salt

3/4 C. vegetable shortening

4 to 5 T. fresh orange juice
Filling

2 large eggs, beaten

1/2 C. sugar

1 1/2 C. cooked, mashed sweet potato

1 C. milk

2 T. butter or margarine, melted

1 t. cinnamon

1/2 t. nutmeg

1/4 t. salt

1/4 t. cardamom

Whipped cream (optional)

Make pastry: Combine flour, sugar, cinnamon, nutmeg and salt in a large bowl. With a pastry blender or 2 knives, cut in shortening until mixture resembles coarse crumbs. Gradually add orange juice, tossing with a fork, just until pastry holds together. Shape into a ball; flatten into a thick disk. Wrap well in plastic wrap and refrigerate 1 hour or overnight.

Make filling: Whisk together eggs in a large bowl; whisk in sugar, then remaining ingredients.

Heat oven to 425° F. On lightly floured surface, roll pastry into a 2-inch circle. Fit into a 9-inch pie plate, leaving a 1-inch overhang. Flute edge.

Pour in filling. Bake 10 minutes.
Reduce oven temperature to 300° F. Bake 25 minutes. Cover edge loosely with foil. Bake 25 minutes more or until a knife inserted in center of filling comes out clean. Cool completely on wire rack.

Serve with whipped cream, if desired.
Makes 8 servings.
Back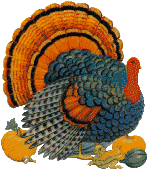 Home

Razzle Dazzle Recipes





http://www.razzledazzlerecipes.com

Don't forget to visit our other Recipe site at
That's My Home

Happy Thanksgiving!