Razzle Dazzle Recipes
"Your Source for Thanksgiving Recipes"
Turkey or Chicken Bake

7 oz. (2 C.) elbow macaroni
1/3 C. butter
1/4 C. all-purpose flour
1-3/4 t. salt
1/8 t. pepper
1 T. minced garlic (in oil or water)
3-1/2 C. warm milk
2 10-oz. cans chicken gravy
4 C. cooked turkey, cubed
1 15-oz. can early June peas
2 oz. diced pimento, drained
2 4-oz. cans mushrooms, drained
1/4 C. butter, melted
1 C. breadcrumbs
1/2 t. crushed parsley flakes

Cook macaroni in salted water (1 tablespoon salt per 2 quarts of water); drain. In a 4-quart saucepan, melt 1/3 cup butter. Blend in flour, salt, pepper and garlic. Add milk all at once. Cook and stir until thickened and bubbly. Stir in chicken gravy. Stir in turkey, peas, pimento, mushrooms and cooked macaroni.
Turn into a greased 13 x 9 x 2-inch baking dish. Bake, covered with aluminum foil, at 350° F. for 30 minutes. Add bread crumbs to 1/4 cup melted butter and combine with whisk in small bowl; sprinkle over casserole. Crush parsley flakes in your fingers and sprinkle over top. Bake uncovered for 10 minutes. Serve hot.

Back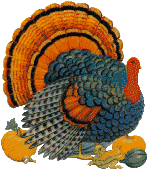 Home

Razzle Dazzle Recipes





http://www.razzledazzlerecipes.com

Don't forget to visit our other Recipe site at
That's My Home

Happy Thanksgiving!