Razzle Dazzle Recipes
"Your Source for Thanksgiving Recipes"
Winter Salad With Apples and White Cheddar Recipe
Dressing:
2 1/2 T. cider vinegar or white wine vinegar
6 T. extra virgin olive oil or walnut oil
salt and freshly ground pepper
Salad:
1 small head radiccio, leaves separated and cut lengthwise into narrow strips
2 heads Belgian endive, leaves separated and cut lengthwise into narrow strips
1 small head frisee, tough stems removed and torn into small pieces
1 tart green apple, such as Granny Smith or Newtown Pippin, thinly slice, peel left on
1 sweet red apple, such as Fuji, Pink Lady or Braeburn, sliced, peel left on
1/2 C. walnut halves, toasted
Wedge of sharp white Cheddar cheese (Roquefort is also excellent)

Whisk together the dressing ingredients in a small bowl. Combine the lettuces in a large bowl and toss well. Add the apples and nuts and drizzle with the dressing. Toss again.

Using a vegetable peeler or sharp paring knife, shave curls of the cheddar over the top. Serve at once.

6 servings.

Back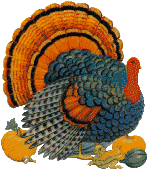 Home

Razzle Dazzle Recipes





http://www.razzledazzlerecipes.com

Don't forget to visit our other Recipe site at
That's My Home

Happy Thanksgiving!