Christmas Eve Dinner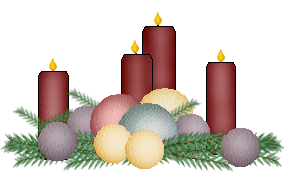 Brie with Cranberry Chutney

Basil Cheese Triangles

Cucumber and Raspberry Salad

Beef Bourguignon
Sweet and Sour Green Beans

Chocolate Decadence

Cranberry Chutney with Brie

2 C. fresh cranberries
1 1/3 C. sugar
2/3 C. vinegar
4 T. water
4 t. chopped fresh gingerroot
1/2 t. cinnamon
1/4 t. ground cloves

Combine cranberries, sugar, vinegar, water, gingerroot, cinnamon and cloves in a 1 qt. saucepan. Heat until boiling, reduce heat and continue to cook 20 minutes, stirring frequently, until thick. Cool slightly and refrigerate.

When ready to serve bring chutney to room temperature. This is enough chutney for 2 8 inch Brie. Warm Brie in a 350 degree F. oven 8-10 minutes until soft and partially melted. Place brie on serving dish and top with chutney. (and sliced almonds if desired)

Serve with crackers.

Basil Cheese Triangles

1 lb. feta cheese
2 eggs slightly beaten


1/4 C. fresh basil chopped
1/4 C. chopped roasted pepper
1 package phyllo sheets
1/3 C. melted butter

Crumple feta cheese into a small bowl. Stir in eggs, basil, roasted pepper.

Cut phyllo sheets lengthwise into 2 inch strips. Cover with a damp towel to keep from drying out. Place 1 t. of filling on end of 1 strip. Fold strip over cheese mixture, end over end into triangular shape. Place on cookie sheet. Brush with melted butter.

Bake at 400 degrees F. for 12 minutes or until golden brown. Serve warm.

Makes 72 appetizers

Note: You can do these ahead. Cover and refrigerate the triangles up to 12 hours or freeze tightly covered up to 30 days. If baking frozen increase baking time by 5 minutes.

Cucumber Raspberry Salad
Dressing:

1/2 C. light, fruity olive oil
3 T. raspberry vinegar
3 T. creme fraiche
salt and pepper

Whisk the oil into vinegar. Add salt and pepper to taste. Whisk in the creme fraiche. Taste for balance of flavors.

4 cucumbers peeled and thinly sliced
3 T. fresh chopped chives
1/2 pint fresh raspberries

Arrange the cucumber slices on individual plates in a slightly overlapping pattern. Drizzle with the dressing and sprinkle with the chives. Top with a few of the berries.

Beef Bourguignon
3 lbs. filet of beef
3-4 T. oil
1/4 lb. bacon diced
2 minced garlic cloves
1 1/2 C. dry red wine
2 C. beef stock
1 T. tomato paste
sprig fresh thyme
1/2 lb. peeled pearl onions
8-10 carrots cut diagonally in 1 inch thick slices
3 T. butter
2 T. flour
1/2 lb. fresh mushrooms sliced

Slice the filet into one inch thick slices. Salt and pepper on both sides. In a large pan with heavy bottom, saute the beef slices in batches with butter until browned (about 3 minutes) on the outside and very rare in the inside. Remove from pan and set aside.

In the same pan, fry the bacon until crisp. Set the bacon aside. Drain all the fat but 2 T. and add the garlic. Cook for 30 seconds.

Add the wine to the pan to deglaze and cook on high heat for about 2 minutes. Add the beef stock, tomato paste, thyme, 1 t. salt and 1/2 t. pepper. Bring to a boil and cook over medium heat 15 minutes. Strain the sauce and return the sauce to the pan. Add the carrots, onions and cook about 20 minutes until vegetables are tender and sauce is reduced.

Mash 2 T. butter and 2 T. flour together and whisk into sauce. Simmer 3 minutes.

Saute the mushrooms in 1 T. butter and 1 T. oil about 10 minutes.

Add the beef slices, mushrooms and bacon to the pan with the vegetables and sauce. Cover and reheat gently for 5-10 minutes. Do not overcook.

Season to taste and serve immediately.

Serves 6 to 8.

Chocolate Decadence
1 pound dark chocolate
5 ounces butter

Melt butter and add chocolate. Chocolate chips will also work in this recipe.

4 eggs
1 T. sugar
1 T. flour

Beat eggs with sugar until sugar is dissolved and eggs have tripled in volume. This will take about 8-10 minutes. Fold in the flour. Add chocolate mix. Fold this in, trying not to lose the volume created when you beat the eggs. (Note: add 1/4 of the egg mixture to the chocolate and stir it in. Then lightly fold the remaining egg mixture into the chocolate.)

Prepare a 9 inch pan by cutting a round of wax paper to fit in the bottom of the pan. Grease lightly and fit paper on bottom of pan. Pour batter into pan and bake at 425° F. for 15 minutes. Center will be just beginning to set. Let cool completely in pan.

To serve remove from pan and remove wax paper. Place cake on serving dish. Top with chocolate sauce, whipped cream and chocolate shavings after cutting, if doing individual servings. Otherwise, I would top with the chocolate shavings and serve the chocolate sauce and whipped cream on the side.