Halloween Breakfast
Scrambled eggs feel and look much more like brains than cold spaghetti - add a few drops of green, red and blue food coloring as you're beating the eggs and the final product will frighten even the most hardened child. A drop of two of red coloring turn grapefruit sections pale pink making them into very convincing thumbs.
Remember how scary Stephen King's The Shining was? Here's an effect borrowed from the movie that's easy to create in a bathroom, if you happen to have a tile wall opposite the bathroom sink mirror (or some other non-staining, easily cleanable surface). Simply take a cheap red lipstick and scrawl the word REDRUM on the wall. When someone looks up while washing their hands, they will, of course, see the word MURDER.
Q. What do skeletons say before eating?
A. Bone Appetite
For a great outdoor display that gives the effect of glowing faces floating in the dark, hang Jack O' Lanterns at various lengths from plant hangers.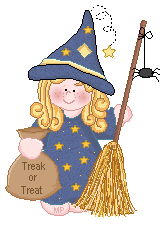 Dried Apple Shrunken Heads for Halloween
These little faces, made from dried apples, can look really nasty and sinister -- the perfect thing to decorate a Halloween party. Tuck them in among the food at your Halloween Buffet. You can also make lots of dried apple heads and string them up like a spooky garland.
Another idea is to make apple dolls. Once dry, insert a strong wire to form a body, add clothes or other
You will need:
apples
whole cloves
a few grains of rice
1/2 C lemon juice
2 tsp. salt

Peel a large apple and coat with mixture of lemon juice and 2 teaspoons of salt to prevent browning. With a potato peeler or small knife carve out eye sockets, a nose, mouth and ears. Don't worry about carving small details as they will be lost when the apple dries. Go for the big features and nature will take care of the rest.
Use whole cloves for eyes and raw rice grains for teeth (the faces also come out looking great without these extra props, just carve and let dry if you want to keep it simple).
Sit apples on a wire rack in a warm, dry place for about 2 weeks. Shape the faces as they shrink and harden. You can speed the drying process a little by drying in an oven set at the lowest temperature. However, the process will still take several days.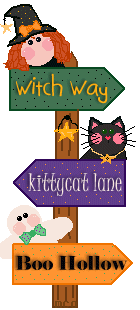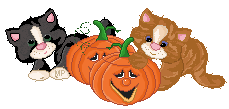 Deliver party invitations rolled inside a cardboard tube decorated to look like a "magic wand."
Decorate your room by putting on display a "haunted house" (like a gingerbread house), trimmed with black jelly candies, white cotton-candy cobwebs, and little ceramic gargoyles around the entrance.
Enhance the lighting with votive candles placed in carved-out pumpkins.
Place a crystal ball on each table as a centerpiece and make white "tombstone" place-card holders to show seating arrangement.
Garnish Halloween martinis with three candy corns speared through a toothpick, instead of onions or olives.
Ladle punch from a traditional black cauldron with dry ice for a smoky "graveyard" effect.
Serve roasted and salted pumpkin seeds with drinks instead of peanuts or pretzels.
Serve roasted orange pepper bruschetta and black tapenade appetizers on a Ouija board, or offer cheddar sticks with black or white bean salsa in a carved-out gourd.
Serve squash soup, and use carved-out gourds for serving spoons.
For a ghoulish side dish, fill a carved-out pumpkin with steamed cauliflower combined with a creamy cheese sauce, and use the top of the pumpkin as a lid - when the lid is lifted off for serving, the cauliflower looks like the pumpkin's "brain."
Hire an astrologer or tarot card reader for entertainment.
Fun Stuff
Spread some dried bread and pretzels under a rug. When your guests walk across the rug it will sound like crunching bones underfoot!
Crime Scene
If you want a great effect for a few pennies try this. Using chalk, draw figures in your driveway that look like the figures drawn by police in a crime accident. You can have a friend or relative draw around you while you pose as the victim. You can purchase crime scene tape like that above at party stores.
Spooky Tombstones
You Will Need:
sheets of styrofoam
serrated Knife or keyhole saw, wood burning tool, black acrylic spray paint, silver acrylic spray paint, dark green acrylic spray paint,
hot glue gun (optional)
Use a pencil to mark off the shape of your tombstone on a piece of styrofoam. Use a serrated knife or a keyhole saw to cut out the shape of your tombstone from a sheet of styrofoam. It's a good idea to do this step outside, because it does make a huge mess.
Once you've got a basic shape, it's time to add an epitaph and details. Use a pen or pencil to sketch the design. Don't worry of you make mistakes, the paint will cover them, this guide is just for you. Use the heated wood burning tool to etch the design into the styrofoam. Since the tool instantly melts the foam, this step goes very quickly, almost like writing. The wood burning tool is also useful for making cutout designs.
Take the etched tombstone outside or place on newspaper to protect surrounding surfaces (or both). Take the black acrylic spray paint and heavily go over the areas of the etchings. Once of the etched area have been covered, give the entire surface of the tombstone a light coat of black paint.
Now take the can of silver paint, and holding it at a sideways angle, give the surface of the stone a light, patchy coat. This is what gives the stones their granite-like appearance. Finally, spray on light patches of dark green paint to add the effect of age and moss, as in the finished stones above.
To stand the stones on your lawn, cut two lengths of wire coat hanger wire, about 8 - 12 inches. Carefully push the two pieces of heavy wire into the styrofoam base of the stones, halfway. Push the other half of the wires into soft grass.