The Purr-fect Treat

1/3 cup butter or margarine
1/3 cup shortening
1-3/4 cups all-purpose flour
3/4 cup sugar
1-1/3 cup unsweetened cocoa powder
1 egg
2 tablespoons milk
1/2 teaspoon finely shredded orange peel
2 teaspoons orange juice
1 teaspoon baking powder
1 teaspoon vanilla
1 recipe Orange Icing

In a large mixing bowl, beat shortening and butter or margarine with an electric mixer on medium to high speed 30 seconds or until softened.

Add half of the flour, sugar, cocoa powder, egg, milk, orange peel, and juice, baking powder, and vanilla. Beat until combined, scraping bowl occasionally. Beat or stir in remaining flour. Divide in half. Cover; chill for 1 to 2 hours or till easy to handle.

On a lightly floured surface, roll each dough portion to a 1/8-inch thickness. With a cat-shaped cutter, cut into shapes. Place shapes 1 inch apart on an ungreased cookie sheet.

Bake in a 375 degree F oven for 7 to 9 minutes or until edges are firm and bottoms are light brown. Remove cookies; cool thoroughly on a wire rack. Decorate cats with Orange Icing.
Makes about sixty 2- to 3-inch cookies.

Orange Frosting

2 cups sifted powdered sugar
3 tablespoons softened butter
1 teaspoon finely shredded orange peel
2 to 3 tablespoons orange juice

In a bowl stir together powdered sugar, butter, orange peel, and enough orange juice (2 to 3 tablespoons) to make an icing of spreading consistency.
Makes about 2/3 cup (ten 1-tablespoon servings).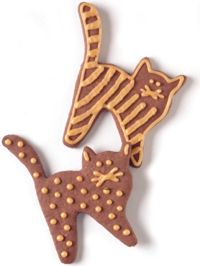 Source: Better Homes and Garden