Halloween Recipes from Razzle Dazzle Recipes
Spooky Cheesecake Recipe
Your Source for Halloween Recipes Online!
Spooky Cheesecake

This mouthwatering cheesecake is topped with Halloween sprinkles and edged in orange-colored candy coating.

3 ounces vanilla-flavored candy coating
Orange food coloring paste
Purchased frozen cheesecake, thawed (1 pound, 14 ounces)
1 8-ounce container frozen whipped dessert topping, thawed
Small, multicolored decorative Halloween candies

In a small saucepan, melt candy coating. Add orange food coloring to desired shade. Transfer to a waxed-paper-lined baking sheet. Spread to an 11x8-inch rectangle. Chill in refrigerator until firm (about 30 minutes). Break into small shards. Set aside.

Reserve 1/2 cup of dessert topping; set aside. Pipe or spread remaining topping over surface of cheesecake. Sprinkle with Halloween candies. Attach shards of candy coating to the edge of cheesecake with reserved dessert topping. Makes 12 servings.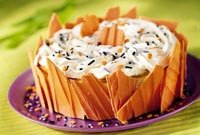 Source: Better Homes and Garden and Halloween Fun: 101 Ideas to Get in the Spirit
Back

Home
[Boo-tiful Halloween Appetizer Recipes] [Graveyard Halloween Dinner Recipes] [Ghoulish Halloween Treat Recipes] [Scary Halloween Desserts Recipes] [Halloween Trick or Treat Candy Recipes] [Halloween Party Ideas] [Halloween Party Games] Halloween Recipes
Razzle Dazzle Recipes
http://www.razzledazzlerecipes.com

Don't forget to visit our other Recipe site at
That's My Home
Happy Halloween!