Razzle Dazzle Recipes * Mix in a Jar Recipes
"Your Source for Christmas Mix in a Jar Recipes Online"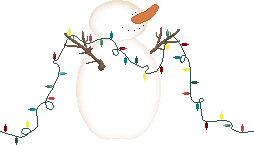 Jar Making Tips
Decorating the Jars

For the lid:
Cut out a 7 - 8" (across) circle.
Place canning jar lid in center of fabric and put the ring around the lid to securely fasten the material in place.

You might want to add cotton balls underneath the fabric to give it a quilt look.

Try different fabrics for different themes. Use gingham, plaids, holiday decorated fabric, or even bandanas. Be creative! Personalizing makes the gifts even more special for the person receiving it.
For the gift tags and recipe tags:
You could print your own design from your computer onto cardstock or recipe cards. Or, print out the recipes on your computer and use cookie cutters to make a drawing around the recipe and cut it out.

You could write the directions on the recipe tag by hand.

Punch a hole in top corner of the tag.

Add a ribbon or string to the card and attach to the jar.

Also, you can include the whole recipe on the gift tag, in case the person receiving your gift wants to make the recipe again or want to make it as a gift to give to someone else.

A decorative ribbon would dress up the whole thing. It holds the recipe tag on the jar and adds a decorative touch. Use 2 or 3 feet of ribbon that coordinates with your fabric. Put the ribbon through hole on the recipe tag and tie it around the jar ring on the lid. You could even make a bow and glue it on if needed.
Try using raffia in place of ribbon.

Attach objects such as cookie cutters, wooden spoons, measuring spoons, utensils, a mini rolling pin, bells, hot sauces with spicy recipes, crackers in a plastic bag attached to jar for soup recipes, store bought ornaments or homemade ornaments.
Filling the Jars

Be sure to pack the ingredients tightly when adding to the jar, especially brown sugar. (Try crumbling the brown sugar to give it an even texture before packing into jar. Recipes with brown sugar should be used within weeks of making because the sugar will turn rock hard the longer it sits. If this happens, you may have to pick at it to remove it from the jar.)

Flour and sugar seep through, so nuts and candies should be on top of flour or white sugar.

Pack contrasting colors together, the layers will look nicer.

Wipe the inside of the jar after adding ingredients like cocoa, brown sugar, etc. Be sure to do this before adding the next ingredient so you don't get a smeared look on the outside.

Persistent tapping with a towel will help the ingredients to pack firmly.

Always use clean jars and let them dry completely before using.

Use a funnel to help pour most of the ingredients into the jar.

Use colored coordinated candy for holiday themes, such as pastel M&M's for Easter or baby showers, or red and green M&M's for Christmas.

Use wide mouth, 1 quart canning jars for most recipes. Some recipes require bigger jars, and others will only need a smaller jars. Or you can use clear canisters, plastic zip bags, or any other sealable container.

Seasonings can be made in small jars or bags.

You can also make fabric bags and place the sealed plastic bags with the dry ingredients into the fabric bags.

The fabric bag is a good idea for spiced drinks, coffees and cocoas.

Be sure to follow the recipe's directions. Some jar recipes may need to be refrigerated.

How much will fit into jar? Approximately 4 cups fit into a 1 quart, wide mouth canning jar. Brown sugar compacts well, so recipes with brown sugar can fit more into a jar.

If there is any space left after adding all ingredients, you can add more candy, nuts, chocolate chips, etc. Any that are included in the recipe, to fill up the space.

These dry mixes can be made ahead, but for no longer than 3 months; and if your jar mix includes nuts, the recipe should be used no later than 3 months. You do not have to keep these dry mixes in the refrigerator unless the recipe states to do it.

Mixes Home Jar Recipes Cookie Mixes Mix Recipes Bread Mixes
Soup Mixes Beverage Mixes Bake in a Jar Recipes Gift Recipes
[Christmas Cookie Recipes] [Christmas Bar Cookie Recipes] [Christmas Cookie Swap] [Christmas Candy Recipes] [Village Candy Store] [Snowman Soup Recipe] [Santa's House] [Mrs. Claus's Kitchen Recipes] [Holiday Appetizer Recipes] [Christmas Eve Dinner Recipes] [Christmas Day Dinner Recipes] [Beverage Recipes] [Fun Stuff for Christmas] [12 Days of Christmas Recipes] [Gifts in a Jar Recipes] [Mix in a Jar Recipes] [Razzle Dazzle Recipes] [That's My Home]