Chocolate Pistachio Biscotti Recipe
1 lb. butter
2 C. sugar
4 eggs
4 C. flour
1 C. cocoa, sifted
2 C. pistachios, toasted and roughly chopped
3 C. chocolate chunks

1 C. pistachios, finely chopped
1 C. sugar
Cream the butter and 2 C. sugar. Add eggs one at a time. Blend well. Add flour and cocoa. Mix until just blended. Add the 2 C. pistachios and chocolate chunks. Mix well and divide into 2 pieces.
Toss together the remaining sugar and 1 C. pistachios. Spread it out a piece of wax paper. Roll each piece of dough in the mixture and form a log, about 2 inches in diameter.
Bake at 350° F. until dry to the touch, about 25 minutes. Remove from oven and let cool.

Cut 1/2 inch slices on the diagonal. Lay each biscotti on a baking sheet. Rebake at 300° F. for about 10 minutes.
Makes about 25 biscotti.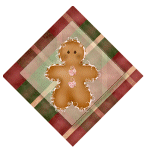 Bourbon Caramel Cream Sauce Recipe
1 C. sugar
1/2 C. water
2 oz. bourbon whiskey
1 pint heavy cream
1/2 t. vanilla

Bring water and sugar to a boil in a heavy bottomed pan. Simmer until it starts to reach a caramel color.

Remove from heat and carefully add another 2 T. of water. Return to heat and stir in bourbon, cream and vanilla. Bring to a boil. Simmer for 5 minutes more.
This sauce is good hot or cold with cakes, ice cream and puddings.

Apple Butter Recipe
1 gallon applesauce
4 1/2 C. sugar
2 1/2 t. cinnamon
1 t. ground cloves
1/2 t. nutmeg
Combine all ingredients in a 6-quart slow cooker. Cook uncovered for 8-12 hours. Check the thickness and stir occasionally. When it is at the desired thickness, ladle into sterilized pint jars. Process for 20 minutes in a hot water bath.
Makes 7-9 pints
Chocolate Oreo Bread Pudding Recipe
8 eggs
1 1/2 C. sugar
2 qts. light cream
16 slices white bread
2 oz. vanilla
2 3inch brownies crumbled
6 oz. hot fudge sauce
2 C. oreos crushed
cooking spray
Spray a 9 x 13 pan with cooking spray. Place 8 pieces of bread in the bottom.
In a mixing bowl, add the eggs, sugar and cream. Beat with a whisk. Add the brownies, 1 C. oreo crumbs, vanilla and hot fudge. Blend well.
Pour the cream mixture over the bread. Top with the remaining bread. Push down into the cream mixture until the bread is covered. Top with the remaining oreo crumbs.
Cover the pan. Bake at 375° F. for 55 minutes. Uncover and bake 15 minutes more or until center is set.
You can top this with ice cream, hot fudge, crushed oreos and whip cream.
Note: Mrs. Claus says that because it is Christmas, this is calorie free!