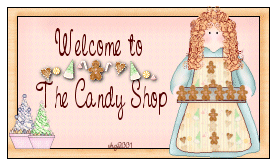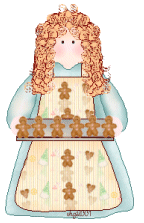 Hi, I'm Sally and I'll be your host here in the Candy Shop. What can I help you with? How about a Gingerbread House decorated with all our special candies? Santa's Favorite Fudge is boxed and ready for gift giving. Perhaps you'd like to learn to make a Candy and Gingerbread Wreath?
Take a peek in the candy cases to see what we have for you. There are Chocolate Snowmen

and Santa's too.

So come sit by the fireplace while I share my recipes with you.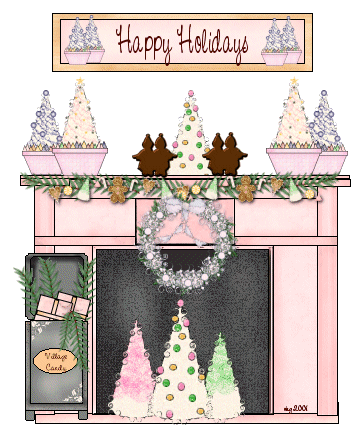 Santa's Favorite Fudge Recipe
Orange Balls Recipe
Candy Bar Cookies on a Stick Recipe
Sugarplums Recipe
Berry Mocha Fudge Recipe

Orange Balls Recipe
1 can orange juice, undiluted
1/2 butter, room temperature
1 box confectioners' sugar
1 can coconut
1 C. chopped nuts
1 box vanilla wafers crushed

Mix together all ingredients. Roll into balls and roll in confectioners' sugar to coat. Store in an airtight container.

Hard Christmas Candy Recipe
1 C. light corn syrup
4 C. sugar
1 C. water
1 t. spice-flavored oil
Food coloring
Powdered sugar

Line bottom and sides of a 15 x 10 jelly-roll pan with aluminum foil. Dust with powdered sugar. Set aside.

Combine corn syrup and water in a medium-size heavy saucepan. Cover and bring to a boil. Remove cover and cook over medium heat, without stirring, to 300°F. (150°C) on a candy thermometer. (A teaspoonful of syrup will separate into brittle threads when dropped into cold water.)

Remove from heat. Add oil and desired food coloring, mixing well. Pour hot candy in strips over powdered sugar. Cool completely at room temperature. Invert pan, peel off foil and break into pieces.

Makes about 2 pounds candy.

Candy Bar Cookies on a Stick
1 C. peanut butter
1/2 C. butter
1/2 C. shortening
1 1/2 C. granulated sugar
1/2 C. packed brown sugar
1 1/2 t. baking soda
2 eggs
1 t. vanilla
2 1/4 C. flour
40 wooden sticks
40 miniature-size (about 1" square) chocolate-coated, caramel-topped nougat candy bars (with or without peanuts) or 20 fun-size candy bars (about 2x1" rectangles), halved crosswise
Optional small multicolor decorative candies, chopped nuts, and/or colored sugar
Optional melted chocolate or frosting

Beat peanut butter, margarine or butter, and shortening in a large mixing bowl with an electric mixer on medium to high speed for 30 seconds. Add granulated sugar, brown sugar, and baking soda; beat till combined. Beat in eggs and vanilla till combined. Beat in as much of the flour as you can with the mixer on medium speed, scraping sides of bowl occasionally. stir in any remaining flour with a wooden spoon.

Insert a wooden stick into each candy bar piece.

Form about 2 tablespoons dough into a ball shape around each candy bar piece, making sure the candy is completely covered. If desired, roll ball in decorative candies, nuts, or colored sugar, gently pushing candies or nuts into dough.

Place cookies 2 1/2 inches apart on an ungreased cookie sheet. Bake in a 325° F. oven for 15 to 20 minutes or till golden and set. Cool on cookie sheet for 5 minutes. Remove from cookie sheet and cool completely on rack.

If desired, drizzle or frost the cookies with melted chocolate or frosting.

Makes about 40.

Sugarplums Recipe
1 lb. plums

Thin Syrup
1/2 pound of sugar
pint of water

Thick Syrup
2 pounds of sugar
2 tablespoons of water

Make a thin syrup of half a pound of sugar and a pint of water. Slit a pound of plums down the seam and put them into the syrup. Poach gently until only just tender, taking care that they remain covered with the syrup, or they will lose their color. Cool, cover and refrigerate overnight.

The following day make a thick syrup of two pounds of sugar and two tablespoons of water. Boil until a little dropped in a bowl of cold water makes a thick but soft ball. Remove from heat and allow to become cold. Then carefully drain the plums as completely as possible from the first syrup and place them gently in the second thick syrup.

Reheat and scald only until the plums look clear, taking care that they are completely covered in the syrup. Allow to cool again. Then empty them into a shallow ceramic or glass bowl, cover tightly and allow them to develop flavor in the refrigerator for a week. Take them out and spread them apart on dishes or plates. Cover loosely with baking paper, put them in a warm, dry place and turn them every day until dry. If you put them in a very low warming oven, turning them every half hour, at first, then every hour, etc., they can be dried much more quickly. At this stage a home fruit dryer can also be used if desired.

Do not discard the thin syrup. It makes a delicious sauce on ice cream, either by itself or accompanied by finely chopped sugarplums. You can freeze it until your sugarplums are ready. Alternatively it can be used as the liquid in a cake recipe. You would have to reduce the sugar in the cake recipe accordingly.

Berry Mocha Fudge
1/4 lb. butter
12 oz. can of evaporated milk
3 1/2 C. of sugar
1 heaping T. of instant coffee
10 oz. Hershey's Raspberry chocolate chips
2 oz. bittersweet chocolate
7 oz. marshmallow cream
1 tsp. vanilla

In a heavy saucepan melt the butter. Add evaporated milk, sugar, and coffee. Bring to a rolling boil, stirring constantly until the temperature reaches 235 degrees. Remove from heat and and raspberry chocolate chips and the bittersweet chocolate. Stir the mixture until all ingredients are melted. Add the marshmallow crème and stir until blended. Stir in the vanilla. Pour into a lightly greased 9 X 13 inch pan. Cut in bite sized squared when cooled.
[Home] [Christmas Cookie Recipes] [Christmas Bar Cookie Recipes] [Christmas Cookie Swap] [Christmas Candy Recipes] [Village Candy Store] [Snowman Soup Recipe] [Santa's House] [Mrs. Claus's Kitchen Recipes] [Holiday Appetizer Recipes] [Christmas Eve Dinner Recipes] [Christmas Day Dinner Recipes] [Beverage Recipes] [Fun Stuff for Christmas] [12 Days of Christmas Recipes] [Gifts in a Jar Recipes] [Mix in a Jar Recipes] [Razzle Dazzle Recipes] [That's My Home]





Razzle Dazzle Recipes
No Portion of this site may
be republished without permission